By Ronan Wright on April 18th, 2014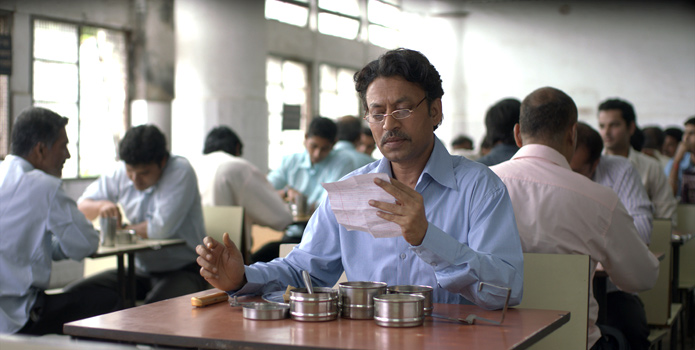 The Lunchbox (2013) Dir. Ritesh Batra – QFT Belfast 18th-24th April
Who's in it? Nimrat Kaur, Irrfan Khan
What's it about? Indian produced The Lunchbox, shot on location in a bustling Mumbai, is a warm, big-hearted, culturally specific and universally feel good film about the cost of not appreciating what you have and the value of counting your blessings. When Ila carefully prepares her husband's lunch everyday it is delivered to him at work via "dabbawala", Mumbai's peculiar lunchbox delivery service. When the eponymous lunchbox is delivered by mistake to the wrong man a wonderful rapport is struck between two complete strangers; a wife doing her best for her husband despite his apparent ingratitude, and a grieving widower on the receiving end of a selfless gesture, reminding him of the truth, beauty and goodness to be found, in the most ordinary things, when we forget ourselves and look for it in others.
Memorable Moments? In one scene Ila relates via letter to her anonymous confidante that her husband doesn't seem to appreciate her, to which Life of Pi star Irrfan Khan's Sajaan responds in kind "Dear Ila, things are never as bad as they seem". Optimism is the order of the day here, highlighted perfectly in a scene on a busy trolleybus when Sajaan's friend wisely opines 'My mother always used to say "Sometimes the wrong train will get you to the right station"'.
Look Who's Talking: 'Warm, affectionate, and sweet but not cloying, The Lunchbox is a clever crowd-pleaser from first-time director Ritesh Batra.' – Rotten Tomatoes
Like that? Try this: Trainspotting director Danny Boyle's 2008 India based Best Picture Oscar winner Slumdog Millionaire is a heart-warming coming of age tale about orphan Jamal and his rags to riches journey from the slums of Mumbai, as he defies the Caste system and wins India's Who Wants to Be A Millionaire.
Trivia Pursuit: The film was originally conceived as a documentary.