By Ronan Wright on September 9th, 2013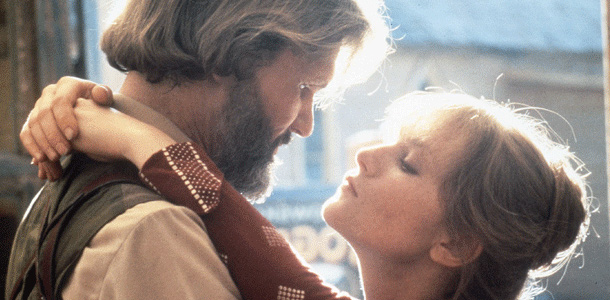 Heaven's Gate (1980) Dir. Michael Cimino – Showing at QFT Belfast 6-8th Sept

Who's in it? Kris Kristofferson, Isabelle Huppert, Christopher Walken, John Hurt
What's it about? Oscar winning director Michael Cimino (The Deer Hunter) divided opinion with this 'revisionist, post-Vietnam view of American imperialism'. Set among the sprawling horse and cattle country of Wyoming, Cimino envisaged the generational tensions between the poor immigrants who settle on the land and the corrupt cattle barons who control it. At a whopping 219 minutes the original theatrical release didn't go down well with audiences or critics and United Artists struggled to recoup their substantial $36 Million investment (a sum unheard of at the time) in spite of the film's gorgeous use of Americas "Marlboro Country" as the setting for it's turf wars.
Memorable Moments: In one scene Kris Kristofferson, as idealistic Harvard Graduate and county marshall James Averill, takes love interest Ella Watson (Isabelle Huppert) for a quaint spot of roller skating at the local roller rink as he vies for her affections with local hired gun Nate Champion (Christopher Walken).
Look Who's talking: 'A Flawed but interesting piece of art in the form of an anti-Western.' – Ian Nathan, Empire Magazine
Like that? Try this: Starring and Directed by genre legend (the man with no-name himself) Clint Eastwood, Unforgiven (1992) sees gun-for-hire William Munny come out of retirement for one last job. A "revisionist" or "anti-western", like Heaven's Gate, Unforgiven takes some of the assumptions long associated with the genre and its proponents and casts them in a more critical light. Looking again at the ugly face of violence and moral ambiguity which characterises the myth of the old west, the film boasts stand out performances from Morgan Freeman as a seasoned outlaw and Gene Hackman as a sadistic sheriff.
Trivia Pursuit: In case you were wondering what significance the title 'Heaven's Gate' holds, the truth is that the film was named after the roller rink the characters visit halfway through.