By Ronan Wright on December 26th, 2014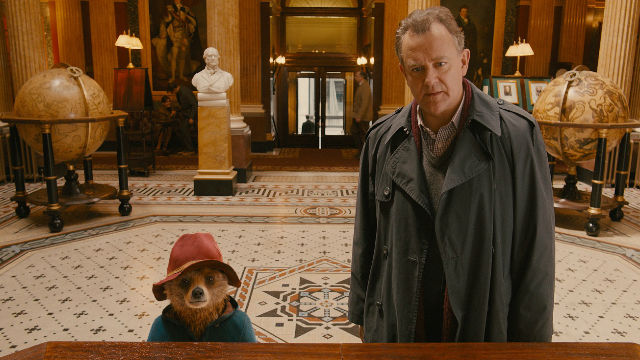 Paddington (2014) Dir. Paul King – In cinemas now
Who's in it? Hugh Bonneville, Sally Hawkins, Jim Broadbent, Nicole Kidman, Ben Whishaw (voice)
What's it about? Based on the character by Michael Bond, director Paul King and a whole host of A List stars bring the beloved little bear with a big heart and a penchant for marmalade to the big screen for the iconic character's first foray into CGI/Live action. And it seems the character's migration from the small screen to the big has hit home with casual audiences, hardcore fans and critics alike with Paddington securing an impressive 97% on Rotten Tomatoes, despite missing out on the coveted family friendly 'U' rating due to some scenes apparently being too intense for toddlers. One critic called it a 'warm, witty and wondrously inventive great big bear-hug of a movie', and it looks a perfect distraction for restless youngsters over the Christmas season. When intrepid explorer Montgomery Clyde stumbles upon a family of intelligent bears in the deep jungle of darkest Peru, after discovering their fondness for marmalade, he invites them to London for a visit should they ever desire a change of scenery. When Paddington's aunt Lucy moves into a retirement home for elderly bears she encourages her nephew to go to London in search of adventure and marmalade, obviously.
Memorable Moments? One scene sees Downton Abbey's own Hugh Bonneville as Mr Brown attempting to say Paddington's name in bear language. Tentatively clearing his throat he growls hesitently, to which Paddington replies, "Mr Brown! That is very rude".
Look who's talking: 'Paddington brings a beloved children's character into the 21st century without sacrificing his essential charm, delivering a family-friendly adventure as irresistibly cuddly as its star.'
Like that? Try this: Tin Tin: The Secret of the Unicorn (2011) breathed new life into Herge's much loved animated sleuth.
Trivia Pursuit: Nicole Kidman took a taxidermy class to prepare for her role.